Every once in a while I reconnect with an old friend from EverQuest or another online game, occasionally someone from high school or even earlier and as a testament to just how much of a video game nerd I've been over the years the same question always comes up; "What are you playing these days?".
It's quite likely that I'm steering the conversation in the direction of games, I just can't help myself sometimes, but the fact remains that I never have a good answer. There is the ever present World of Warcraft which I would compare to a caffeine addiction - it's annoying and would be nice to be done with but it's just so wonderful having a coffee sometimes and it's not like the heroine that was EverQuest, it's quite possible to lead a normal life and still enjoy it. In fact to further this horrible analogy, much like coffee if you play World of Warcraft too much you just end up feeling awful and not enjoying it at all. I guess that would apply to heroin too, but whatever I think I've made my point, or something.
Outside of that I've found games to be uninteresting lately. I'm not really suggesting that I've outgrown them, I think it's actually the other way around. Games have become this mass media entertainment "thing" that I just don't understand anymore. Something that was explained quite nicely by this video...
The only real exceptions to this rule are the few and far between interesting unique games like Portal or Left 4 Dead. Games that don't really go out of their way to convince you that they're exciting and dramatic, and let the gameplay speak for itself, but other than the odd round of Left 4 Dead 2, I'm not really playing those either.
I would honestly love to have another interesting new game pop up unexpectedly that isn't the same been there done that garbage that has been coming out lately. People are trying to get me to play Civilization V, and Game Dev Story for the iPhone but I just know it's going to be the same old progress bar here, tech tree there, build order blah blah blah. I'm not even saying I wouldn't enjoy it, I'm just saying it would be nice to be surprised by a game instead of simply satiated.
Maybe I'm just too old and jaded. Maybe I'm a video game hipster of sorts that can't enjoy any big budget games because they're just all so formulaic. Just like a real hipster it's like I know I would enjoy most of these things if I took the time to actually try them but instead of seeing a flock of birds fly into the air as I walk by I see birdAnimation001_Start() when playerCharacter(exists) within radius$v and get annoyed.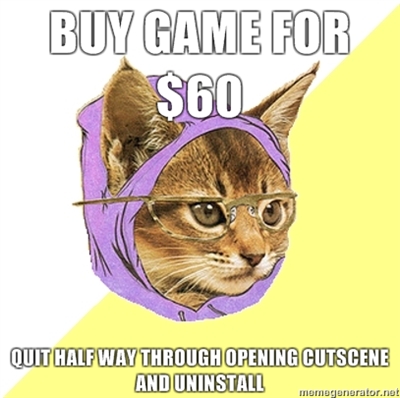 So to make this really long unintelligible answer a little more to the point... I'm not really actively playing anything. I have played many games in the past few months, but have any games really made me want to go back and play through them again? to tell people they should go buy it? made me genuinely laugh or be surprised and not just sigh and be amused at how ridiculous they are?
Unfortunately the answer is no, not really. Anything that has, has worked it's way onto my blog here. Dragon Age, Lords of Ultima briefly... there's not much. There are a lot of promising titles on the horizon but the longer they stay in development the more skeptical I become that they're not just going to be trimmed down for mainstream appeal into another Call of Duty or World of Warcraft clone. It's as if the more money they spend on a game, the more they need to make so the more mass market appeal they have to give it which in my opinion just ends up making it boring. Wonderfully profitable to be sure, but boring none the less.
And yes I realize that complaining about this while still playing World of Warcraft occasionally is horribly hypocritical of me and I have no real come back for that except to say that my Paladin is awesome and hope that somehow that derails the conversation long enough for you to forget what you were accusing me of.
So I'm back at the start here, wondering how to answer that dreaded question and I guess my real answer is that the question is flawed. We, as gamers, shouldn't just be asking each other what we're playing, we should be asking each other what we're enjoying? I think we would be surprised to find that they're often not the same thing.